This weekend just gone, UK rock legends Marillion gathered together with thousands of fans globally, for their first, and in the own words "hopefully only", Marillion Couch Convention. In fact, this virtual gathering continues today, Monday 7th September 2020!
"We have a rare and beautiful relationship with our fans," said Steve Hogarth, the band's singer. "We wanted to do something to let them know that we are with them; find a way to show our appreciation for the support they give to us and more importantly in strange times like these, each other."
The band has been broadcasting their three most popular gig films on YouTube across, with support acts, introductions from the band and even a live Q&A hosted by Prog Magazine editor Jerry Ewing. The band has also been hosting virtual Q&As with fans, music masterclasses, a quiz, fan club meetups with band members, and even a run-along with keyboard player Mark Kelly and a cocktail class with guitarist Steve Rothery. There have been opportunities to win a virtual photo with the band, virtual coffee with a band member and all sorts of other competitions, including an online dog show and prizes for the best photos from the even.
Lucy Jordache the band's manager for the last 20 years, said "When I realised that our 2021 conventions would not be going ahead, I wanted to give our fans something that might help them experience the amazing feeling our conventions famously have. As the Covid 19 crisis deepened, it became more and more important to bring our fans together in a virtual space, where they can feel the love and support from one another and the band."
All events over the weekend have been free. The band have pre-sold merchandise (t-shirts, cushions, wine and beer glasses, banners and even confetti) to help fans get into the spirit of the event, and a rarities auction took place over the weekend. With tough times being experienced across the globe, Marillion were keen for this to be a free event. However, an online tip jar is live throughout, for fans who might want to help out Marillion's crew who have been hit hardest by the lack of live events.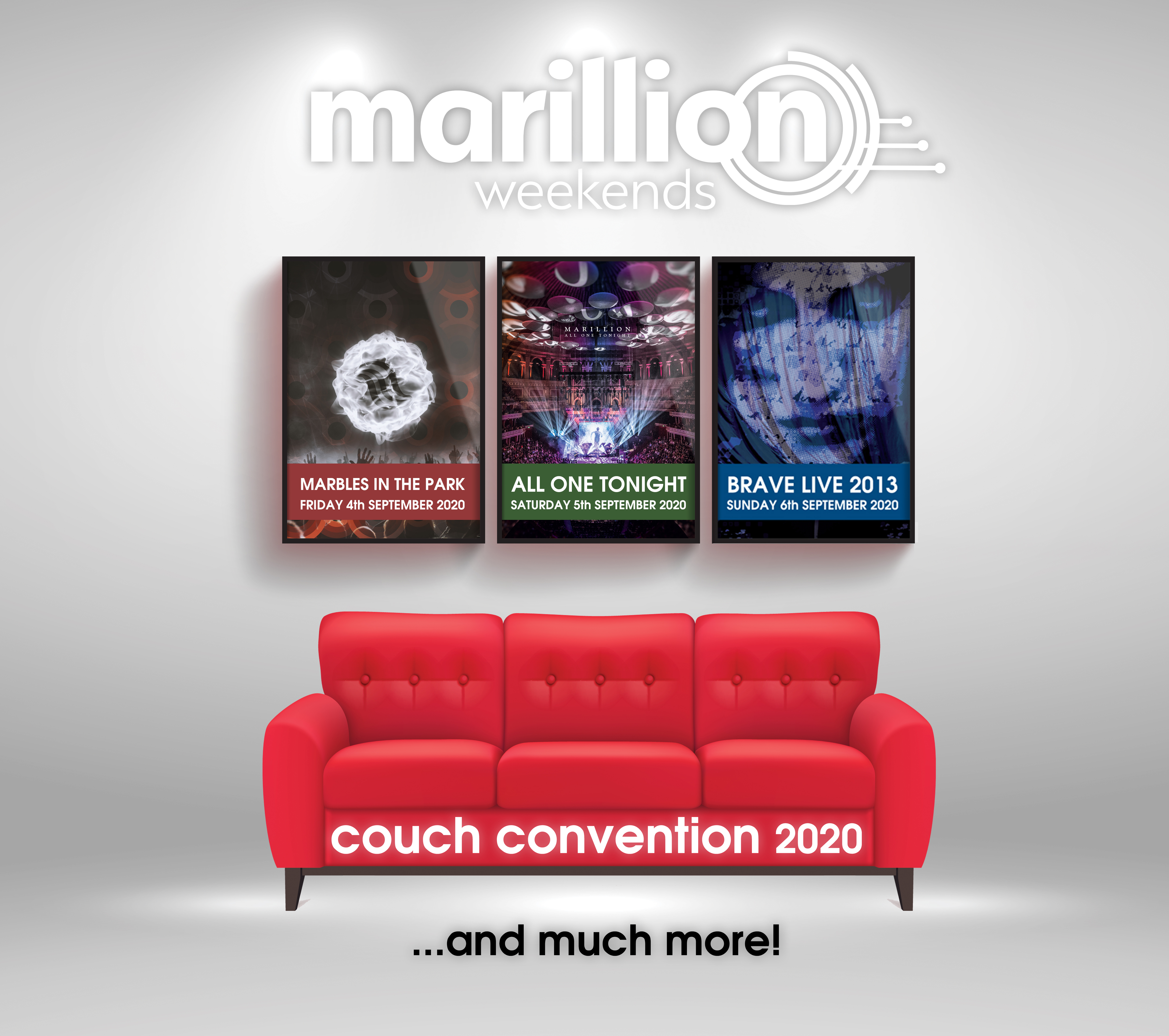 Hogarth added, "We've been completely amazed by the response of our fans to the idea of the Couch Convention and the merchandise we created for it. We sincerely thank them for their continuing love and support and hope to see them out on the road soon."
A successful 40-year history, Marillion's last studio Album F E A R, debuted at number 4 in the UK album charts, claiming a top 20 slot in many European countries and charting across the world including the United States.
The band are known for their uniquely close relationship with their fans, and are widely attributed with reinventing the way bands work commercially, including the revolutionary crowdfunding of their 2000 album Anoraknophobia.
Marillion held their first global convention in April 2002. And now play Marillion Weekends all over the world including their bi-annual hiring of Center Parcs in Holland where they play to over 3,000 fans from over 50 countries.