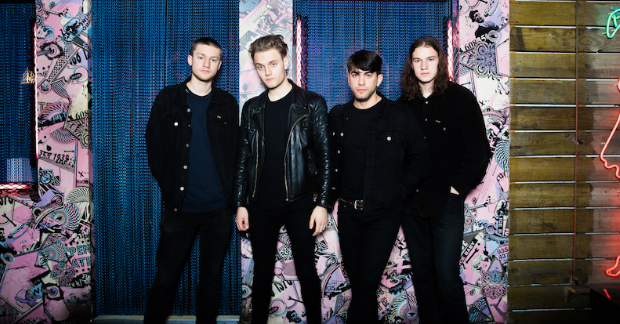 Fine Creatures are a Brighton based 4-piece who met through university and a shared love of  '60's pop and '90's alt-rock. "When we first started, I always said that I wanted to be 'the dirty Beatles', says front man, James Hall. Not a bad summary actually, as this 5-track release, Electric La, La Land, is ripe with pop sensibilities scattered with echoes of psychedelia and rich overtones of Brit-Rock and then a soupçon of alt-rock. Best of the five for me is 'Settle Down', this has a good bass leading into the main melody which, when it crunches in, is damn catchy. The main reason for my choice is that this song has so much variation in tempo and great separation of light and shade with a poppy chorus on top. It is very good. 'Money' provides a strong opener, even if it makes you think "where have I heard that?"
'Get Up' has a punkish feel to the opening chord structures before fusing into late King Crimson… yes, really! 'Panthers' is the lead track and, for me, is the weakest as it succumbs to Brit-Rock stereotypes – it is still worth a listen. 'Birthday Cake' is more individual, with a heavy background riff which even works over the very poppy "la,la,la" chorus. It also benefits from a tasty and well-crafted guitar solo.
All in all then, Fine Creatures manage to blend the best bits of bands like the Manics, Oasis and Muse and come out original. Each member (James Hall – guitar/vocals; Maite Henning – guitar; Finn Hodgson – bass; Jack Bazzani – drums) contributes to a rounded and professional sound. It is not my usual fare but I am damn sure that if they take their truly individual skills and develop them in a more focused direction like 'Settle Down', they could be big.
The EP is due for release on all digital platforms July 27th.