The five-piece hard rock band CONCRETE KINGDOMS from Fife in Scotland are proud to bring their "proper rock attitude…" They have already been compared to Audioslave and Creed… and that can't be bad, right? The band consists of: Mark Hawthorne on vocals, Ben Fraser on guitar, Mark Faulds on guitar, Douglas Fraser on bass and Grant Duncan on drums.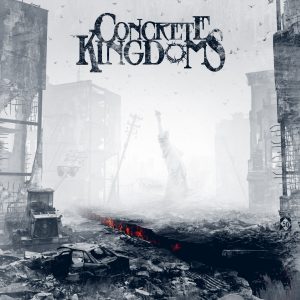 Their new 4-track self-titled EP is out this summer and brings some great riffage with the first single 'Time to Play' [ the radio-edit is a bonus track on the EP].
Groovy and ever-locomoting 'Time to Play' has a striding gait and moments of squelch. The forceful lyric is brought with a red-hot 'n' full-blooded voice. And a brilliant wave of silver and melodious guitar comes near the end — to illustrate perfectly. Splendid.
Faster and perhaps more nimble is: 'Die This Day' — about growing stronger when those around oppose what you do. Therefore it's frisky as a bouncy-castle in a squall. The vivacious guitars jump happily while the rhythm thunders. This is vibrant and irrepressible with a glamorous, full-throttle edge that reminded us of Sweden's Hardcore Superstar.
'Speed Demon' begins with a storm of drums and a complexity of guitars. The voice is attractive without being flashy and the rhythms are electrifying.
'Same Old Same' is a high-impact, screamifying slur. With addictive bouncing booty and burning-hot guitars. A real treat. The piano tops this off creatively.
This will suit fans of Bon Jovi and Quiet Riot. In other words: there's enough gauze, breast-meat and backcomb to make it appear glam… yet sufficient unstoppable, manly energy to veer the songs away from pop metal and into serious hard rock territory.
The EP release date is August 17th 2018.