Hard Rock Hell started as a unique rock and metal festival experience in 2007. Over the years it has spawned many other festivals under the banner, even taking it as far as Ibiza. 9 years on, what else can you do with HRH (in this case it's AOR incarnation)? Take it on the road of course. Headlined by the legends that are The Quireboys, this tour brings the best of this year's HRH AOR festival to your local venue. Newcastle's line-up also features Welsh country-men The Texas Flood, Swedish rockers Bonafide, and glam-metal guys Hardcore Superstar (replacing the formerly billed Faster Pussycat).
To set the scene, this gig started early evening after the famous 'Tyne-Wear derby day' which is famous for it's overflowing pubs and sometimes riotous celebrations. Spike, front-man of tonight's headline act (the previously mentioned Quireboys) is from Newcastle originally. This could go either way.  Luckily it was a 1-1 draw so the atmosphere is pretty calm in the city as fans pour in to the venue.  Young three-piece The Texas Flood open the show.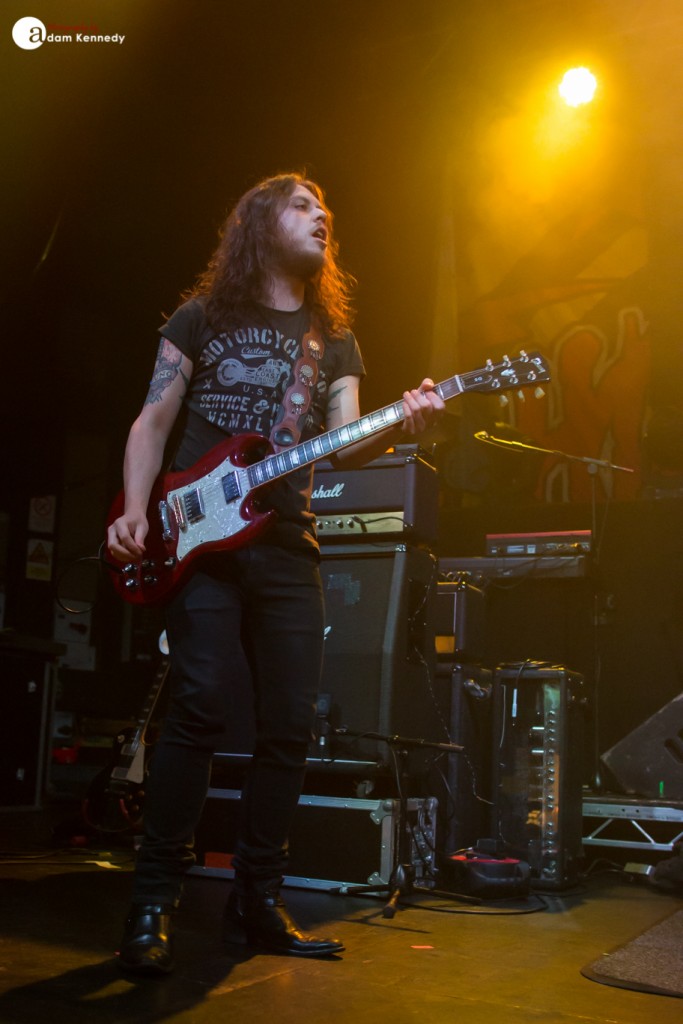 It's only 6.30pm on a mild spring day in Newcastle but we could have been transported to a whisky bar in El Paso listened to these talented boyos. Mixing Aerrosmith-esque blues with a more acoustic country-edge on tracks like 'Gambling Man', it's hard to believe The Texas Flood were born in South Wales…in the 90s! Although the banner of this tour reads 'AOR' (adult orientated rock – similar to Boston or Journey) thee guys serve as a great opener and could be a great vehicle for the three-piece.
Hailing from Sweden  are our next act Bonafide, who have already toured with The Quireboys previously, as well heroes Deep Purple and Status Quo. Despite only being a band for 9 years, the experience really shines through.  truely representing the 'New school' of hard rock. This is your standard tour date gig, all the favourites plus a lot of tracks from their latest album 'Devil's Denim'. They don't do anything wrong…at all.Yet this isn't as outstanding as bands before, and indeed, after their performance.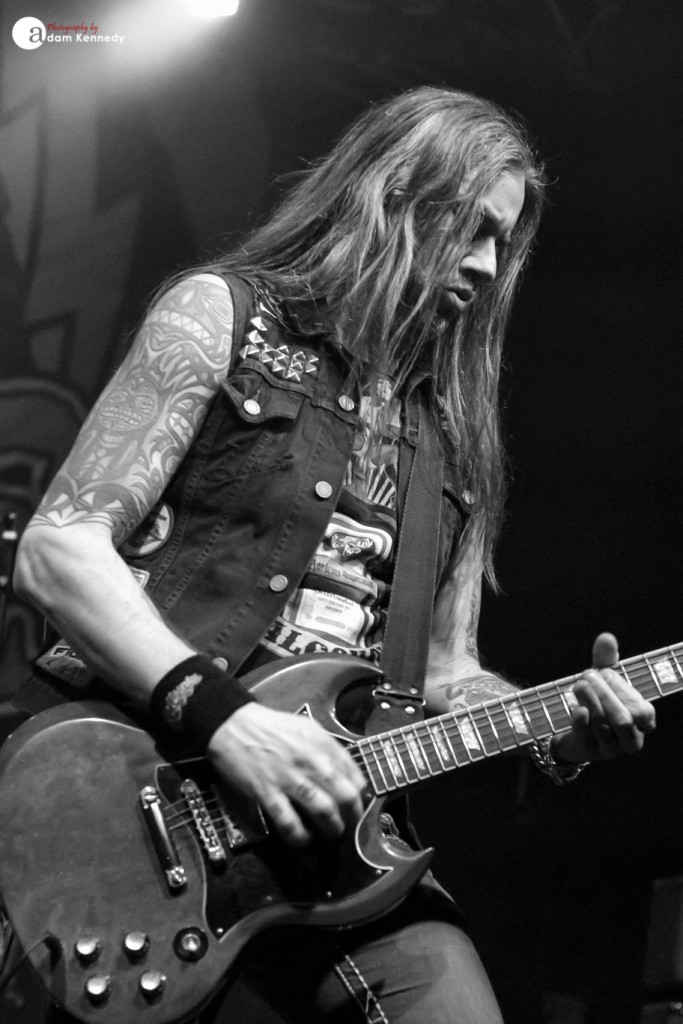 Next up are Hardcore Superstar – who are filling in last minute for Faster Pussycat- and what a great replacement. Like The Texas Flood, they aren't as AOR as the billing might lead you to believe. Yet everyone here seems to be pleased they are on the road with icons The Quireboys. Starting the epic set with 'Sadistic Girls' front-man Jocke Berg has the audience in the palm of his hands. The live vocal by Berg is outstandingly pitch perfect and shows that they are more than just a stand-in for FP. Perfectly matched with Vic Zino's guitar skills and rhythm by Sandvik and Andreasson this is a modern-day super-group.
Treating us to classic tracks 'My Good Reputation' and 'Wild Boys'. Drummer Adde Andreasson even gets a member of the crew to fill in for him while he hands drinks to the crowd during 'Last Call For Alcohol'.  HCSS could of easily headlined this tour. Coming back for an encore with their signature track 'Above The Law' this has been a set to remember.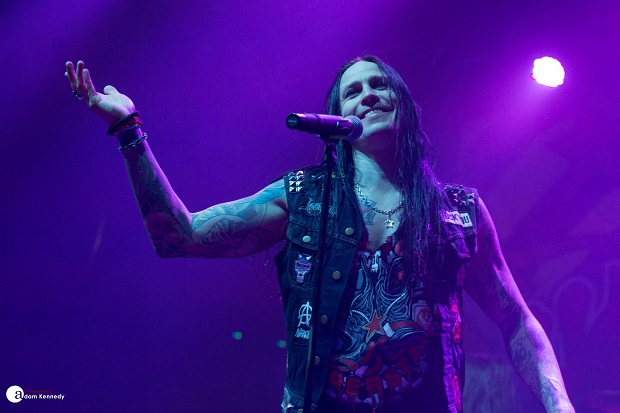 Finally tonight's headliners The Quireboys finally adorn the stage. Local hero and front-man Spike announces "It's good to be home" being a Newcastle man himself he even comments on the football scores (pointing out he supports neither team)and turns extra Geordie for tonight's show. Dressed in a white suit and a red bandanna and bright pink shirt, this is the Spike we all came to see. Although the blues-rockers rose to fame in the late 80s and early 90s, they have been working hard ever since. Releasing two albums last year is testament to this. This does feel like a 'homecoming'  gig for the legends on stage and is enforced by their opening tracks Trouble Maker (Black Eyed Son) and Too Much Of A Good Thing which this gig really isn't – the crowd can't get enough.
The party continues with Spike dedicating St. Cecilia to his mother (which isn't a Foo Fighters cover by the way) and pulling out big hitters Tramps and Thieves and their biggest single Hey You! but the show ain't over yet. Spike reminisces about the glory days and Newcastle's legendary 'rock club' The Mayfair. A venue Spike possibly  spent his youth watching bands like Motorhead, Queen and AC/DC live. If the venue was still there it would have hosted this very gig, and no doubt a lot of the fans in attendance remember the nights spent there.  The band return to the stage for a heart-felt rendition of 'I Don't Love You Anymore' featuring some great piano work from Keith Weir. The second encore sees the icons play 'Sex Party' (nothing to do with Ninja Sex Party, although if Spike is a fan of the internet comedy band, that is awesome) and shows there's a lot of fight left in The Quireboys.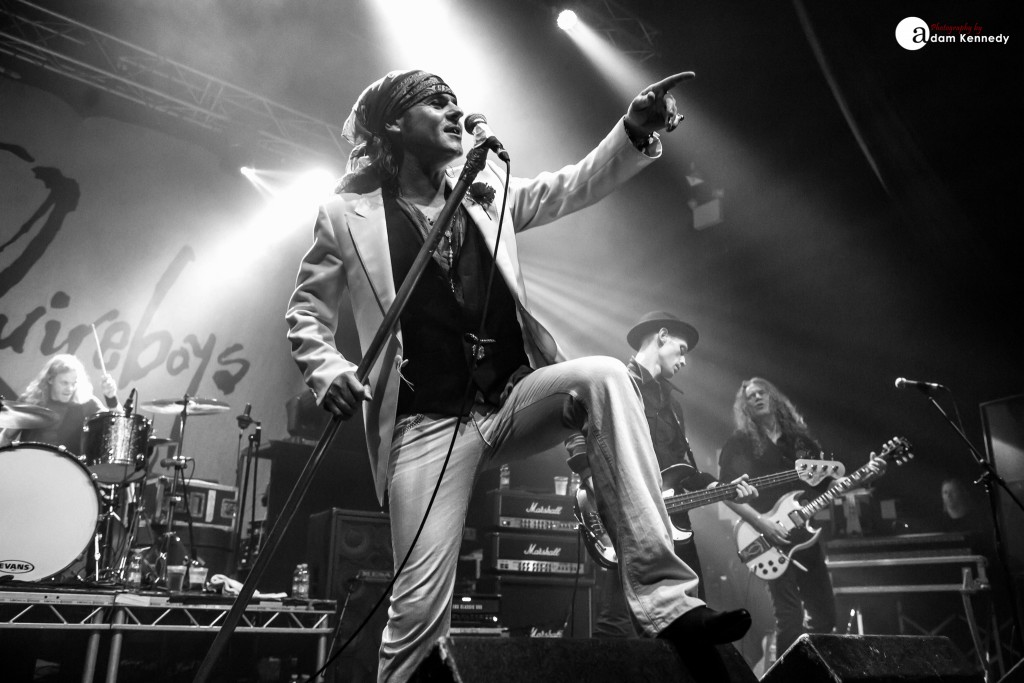 The audience would love a bit more but after 15 track set The Quireboys need to wrap it up at some point. Nevertheless this has been a fantastic gig, and a great way to showcase four fantastic rock bands on the same bill. If this is a taster of the HRH festivals –  I look forward to future AOR events.
All photography by Adam Kennedy