The Swedish black/death metal phenomenon Sacramentum, which was resurrected last year after lying dormant for almost two decades, released an underground milestone back in 1996 bearing the evocative title that is Far Away from the Sun. Century Media Records recently took it upon themselves to re-issue this blackened gem, so if you are missing this one in your collection of sinister music hailing from Sweden, now is your chance to grab a copy of a somewhat overlooked classic.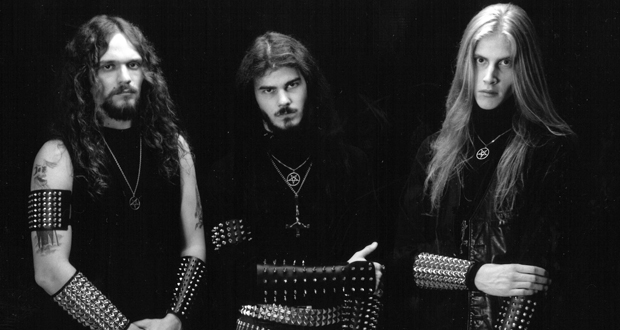 This writer has a certain affinity for the band that is in part due to nostalgia and sentimentality, which is to say Far Away from the Sun was the first-ever black metal purchase that yours truly made all the way back in 1996 at the mere age of twelve. It was the stunning and darkly beautiful artwork by renowned artist Kristian "Necrolord" Wåhlin (Dissection, Emperor, etc.) that drew me in the very moment I laid my eyes on it when browsing through a stack of CDs at the local record store. However, the aggression and intensity of the actual music was almost too much for me and it took another two or three years before I started listening to it properly and felt able to absorb its content. Back in the mid-nineties, the trio leaned much more toward black metal whereas the death metal influences primarily came to the fore on 1997's excellent The Coming of Chaos (1997) and its lackluster successor, Thy Black Destiny (1999). Anyway, let us focus on the music that the three Swedes who constituted the Sacramentum line-up spawned under what surely must have been a black moon in 1996, shall we?
Album opener 'Fog's Kiss' immediately sets the tone of the record and one is sucked into a maelstrom of blazing and blistering black metal that conjures up visions of cold and desolate wastelands, journeys through the Scandinavian netherworld, and endless nights under starless skies. The album is melodically rich all the way through and soaked in a bleak and frostbitten atmosphere, and this staggering piece of work is both heartfelt and hauntingly forlorn. Epic compositions such as 'Blood Shall be Spilled', 'Cries from a Restless Soul', 'Darkness Falls for Me' and the aforementioned 'Fog's Kiss' are akin to contemplating the pitch black and yet there is a savage sense of beauty to them too. Lyrically, these guys had something cool to offer also (especially when considering what many other black and metal outfits were belting out at the same in 1996) and the words and music complement each other nicely and will inevitably guide you to a darkened realm from which there is no escape.
There is only one single bonus track to be found on the disc, which is a raw demo version of 'Awaken Chaos', which would resurface on The Coming of Chaos (1997) in its final form and shape.
The musicianship is stellar and there is an abundance of confidence on display throughout. After all these years, Far Away from the Sun still stands tall and proud as a majestic musical effort. It is not as utterly flawless or monumental as The Somberlain (1993) or Storm of the Light's Bane (1995) by Dissection, which has to do with Mr. Karlèn's vocals occasionally sounding slightly monotonous and a few musical parts being almost too ear-piercing and trebly due to the production, but overall, these are minor issues.
If melodic Swedish black metal of the highest order is your thing, make sure you grab a copy of Far Away from the Sun and allow yourself to revel in its satanic glory and otherworldly aura.
Sacramentum's 1996 debut album Far Away From The Sun is now available on vinyl and CD (again)!