Genre: Post Rock
Well as this band is from my hometown of Liverpool I had to review them didn't I? The first track called 'Rival Thrones' is a very progressive track that still has a lot of emotion attached to it although not my usual listening it is nice to deviate and listen to something that is out of the comfort zone at times and F.O.E.S are one such band.
Going for the more alternative side of rock these guys are really kicking up dust in the Liverpool area and gaining some good feedback.
The second track 'Crown Antler' a rather strange title continues with a more brutish sound that pulses with atmospheric grandeur. Its soft vocals suddenly turn into a conglomerate of gnarly and nasty along the lines of metal core and doesn't go all out to reach those goals, however it is a very diverse listen indeed.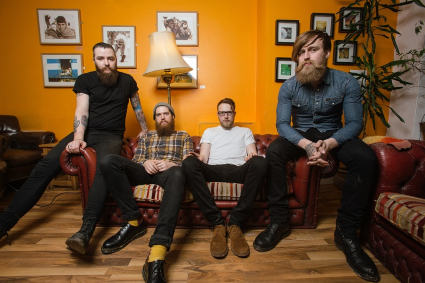 'El Penumbra' is a rather sombre opening and glides with tempered drumming and a soft vocal ambling at its own pace it isn't a track that really gets me saying yes I shall have to press repeat but it is very haunting and atmospheric.
'This is Kingdom Come' can boast some crippling riffs that taunt and tease, although for me the vocals don't do it justice but saying that the melodic core and scathing highs are pure and unadulterated.
'No Sleepers Verse' is another soft track that lingers with a haunting sparseness although is nothing new it could grow on you I suppose.
The band have already released another E.P Ophir (10th Feb 2014), after forming in 2013 and it gained a lot of recognition from various big named magazines – so we shall see what happens from here on in.
It can be said that the E.P, is an emotional journey that will appeal no doubt to the mainstream element, but vocally I need something to get under my skin and aggressively remove it from its lodgings and this E.P just doesn't even get a quarter of the way there as it has a tendency to drag its heels and be far too chilled for my liking but I did enjoy 'Crown Antler'. It is a very diverse album that can boast plenty of atmospheric moments and therefore worth a listen.
F.O.E.S Antecedence is out via Crooked Noise Records on 10th July 2015.