Since bursting out of the Reading scene, Sylosis have been building growing slowly and are now seen as one of the great UK exports o the rest of the metal community. From signing with Nuclear Blast Records to touring with the likes of Lamb of God, Killswitch Engage and Trivium – the bands stock has been consistently on the increase.
It is clear that being on tour with such bands has rubbed off on the writing and style of Sylosis. They have moved away from the nauseating fret board wankery of their debut album 'Conclusion Of An Age', which clearly showed their aspirations of wanting to lead the thrash metal scene. The tempo has slowed, the scales per second ratio have dropped and they have worked hard on the groove aspects of metal. It's a change in direction that has clearly been learnt seeing bands like Lamb of God and Killswitch Engage tear up the stage night after night.
'Dormant Heart' kicks off with the introductory slower burner 'Where The Wolves Come to Die', it's a slow brooding track that you know will eventually lead to the albums real starting point. The album truly gets going on 'Victims and Pawns', I swear I could be listening to a b-side from Sepultura's classic 'Arise'. Such is the familiarity of the machine gun riff style and the Max style vocals; I had to double check for a second what I was hearing. However half way through the song takes an unexpected turn and has an atmospheric almost industrial breakdown, which was a pleasant surprise.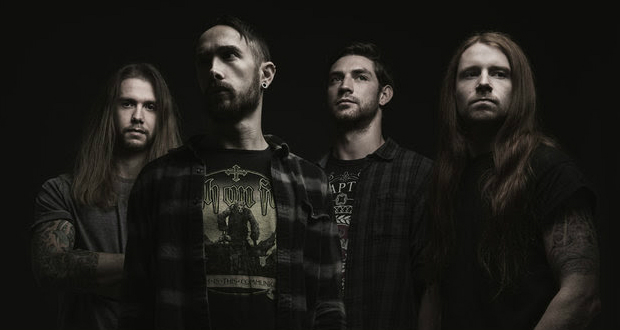 However that's where the surprises (for me) end. 'Dormant Heart' and 'To Build a Tomb' follow, and the aspirations of the band become cleared. They wish to be modern thrash masters, taking inspiration from bands they have toured with and clearly a huge dose of post 'The Blackening' Machine Head. The trend for the album is set and it's one your either going to lap up with delight or simply have no interest in.
Don't get me wrong, there is no disputing the technical ability of the band, they show this on a regular basis. Where Sylosis though have most improved is in the vocals of Josh Middleton. There are many times during the album where clean vocals could so easily be applied to give the more epic feel for the chorus. However keeping the vocals heavy does give the songs a more consistent edge, barring the clean vocals on 'Mercy' where it falls flat and is miss judged.
While there is much technical proficiency on display, I mean there is no denying that Sylosis are extremely talented, but in this day and age it is simply not enough. With so many bands all fighting it out within their genre and metal as a whole, you need to have that killer ingredient to make you stand out from the crowd. And it is here where 'Dormant Heart' ultimately fails. The music is unoriginal and unimaginative modern thrash. Sylosis have learnt from their travels that pacing and tempo is vital to holding the audiences attention. There is only so many spamming of scales at the fastest pace possible you can take before it all blurs into one and ultimately bores you into submission. However there is still precious little on offer to distinguish them from a genre saturated with bands all striving for the same musical sonic attack.
For Fans of: Machine Head, Lamb of God, and any lover of thrash metal.
Released through Nuclear Blast Records, January 2015.