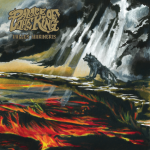 Last year, as if from out of nowhere, Aussie rockers, Palace of the King, came crashing onto the international music scene with their debut album White Bird/Burn The Sky (2015). Throwing more hooks than Rocky Balboa, the album was feel-good; it was exciting; it was fresh; it was put together incredibly well; and I fell in love with it, as did thousands of others.
Although they still have no UK dates as yet, they continue their relentless touring in Australia; I am still surprised they have not started playing the UK festivals this year; however, they look set to build on their phenomenal successes so far and are set to once again get people's 'rock n roll-ometer' clipping in the red, with the release of their second album on 15 July 2016 via Listenable Records. After the resounding success of their last album, which received wide-spead acclaim, Valles Marineris has its work cut out; they have set the bar very high, indeed.
If you still haven't heard White Bird/Burn The Sky (2015), read our review on page 13 in Issue 3 of RAMzine and check out the album to find out why you should be excited about July 15th.