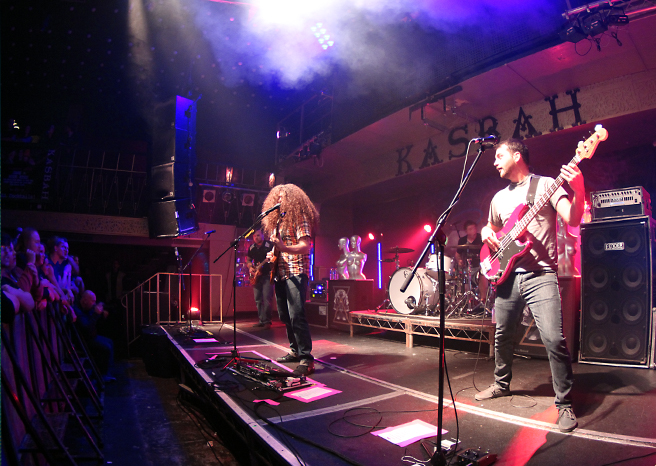 Coheed and Cambria are a band that have been around since the early 90s – they have released 7 amazing and different studio albums – and they have played with Iron Maiden, Slipknot and Trivium. All of Coheed's albums are concept albums, they all tell a story called The Amory Wars, all written by lead singer Claudio Sanchez. In the below audio from Glastonbury 2010 Claudio tells us a bit about the relationship between the music and the comics.

Coheed have built up a huge fan base over the years, tonight showed their fan base are still here and very excited to see the band return to the UK. To warm up the crowd we had performances from Leeds based band Hawk Eyes, and Kingston band Arcane Roots.
Hawk Eyes
Hawk Eyes were a very good opener; I feel they fit it with the vibe of this show very well. They have a very raw dirty rock sound making you want to automatically start headbanging. The only downside was that they couldn't move around the stage much, due to the amount of equipment loaded up for the next bands and the size of the stage! It will be interesting to see what they can do with more space. I noticed how passionate the lead vocalist is, a trait that I am fully expecting from the next two acts. If your intrigued, Hawk Eyes currently have their 'Live in Amsterdam' album available for free download here! (https://www.facebook.com/HawkEyesMusic/app_204974879526524)
Arcane Roots
RAMzine last caught Arcane Roots at this years Redfest. I must say I was disappointed that lead vocalist Andrew John Groves wasn't wearing one of his more flashy paisley shirts, which I have noticed him in before. None the less appearance doesn't affect performance. They start with a very beautiful harmony, I feel like doves could be flying over our heads as they play. Then BOOM! Its an explosion of music, and Arcane Roots have every single persons attention. The performance takes you on a journey of slower harmonised melodies into brash well rehearsed sounds. Andrew darts around the stage like a mad man, this truly adds to the excitement of watching them. There is no doubt that this band could do with a bigger stage, but I think we could say the same for all the bands playing tonight. Every time I've seen this band live, its always been apparent that they are creating an art with their performance. Arcane Roots definitely have the respect of the Coheed fans in the room tonight, and were rewarded with a huge cheer. Head to https://www.facebook.com/ArcaneRoots to check them out.
"Let us say Thank You to Coheed and Cambria this means the world to us!" – Andrew John Groves, Arcane Roots. 


Coheed and Cambria
Coheed are admittedly influenced by Iron Maiden, so what better music to play in the interval. Comically something happened over at the sound desk and the Iron Maiden tracks kept getting stopped – there were "boos" from the crowd. Perhaps they were just teasing! Either way it definitely added to getting the crowd pumped. Looking around I see various Coheed fan tattoos, most popular the dragonfly from the first album. Everyone is staring at the stage, eager to catch a glimpse of a band member.
Coheed are welcomed with the biggest cheer and clapping from the crowd. They start with No World For Tomorrow, the most popular track from their 4th studio album 'Good Apollo, I'm Burning Star IV, Volume Two: No World for Tomorrow.' Everyone in the crowd has their hands in the air as we all sing "Raise your hand high". Next up A Favour House Atlantic from their 2nd studio album 'In Keeping Secrets of Silent Earth: 3'. Fans are so excited by the start of this track! The band plays it very confidently. Already I can see fans itching to start a mosh pit, its getting there…
 "Good evening, ladies and gentlemen, I have a story to tell you, of one's slow decline"
sings Claudio, for the start of Goodnight Fair Lady, a track from Coheeds 6th studio album 'The Afterman: Ascension'. What's nice is Coheed's use 'The All-Mother's' voice during the set, this is something that you hear throughout the album, as they are telling the story. Much more relevant to people who follow Claudio's comics 'The Amory Wars'.
Claudio talks for the first time in the set "How's it going? Thank you for coming to see us play" he says. The next track is their latest single 'Number City' a track that is very different for Coheed, the use of the dramatic brass instruments gives a completely new level to the material. This is a song that I find quickly grows on you. See the video for 'Number City' here: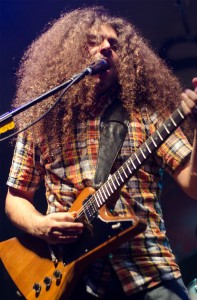 Next up my absolute favourite track from the new album, and judging from the crowds reaction everyone else's favourite too. Gravity's Union is one of the most powerful tracks on the new ablum. The guitar starts up and Claudio doesn't even need to the sing. The crowd sing for him:
"I flew head first into the light! Weightless, crisscrossing, precise, In a dream or was it life".
Fans have been singing every track word-for-word. It's kind of magical when that happens – cheesy I know, but you feel apart of the same team when everyone aound you is singing the words. A quick guitar change for Claudio, and they play Ten Speed, a classic for any Coheed fan. An excellent guitar solo from Claudio.The bands performance overall is so professional, after all this is a band who have toured the world. There are a few small mistakes throughout the set. But its comically laughed off.

Claudio says "Thanks for your enthusiasm" as he ties his hair up. Its good to see that he has grown his hair back – it seems to be such a statement and part of his image that really adds to the performance. Much like Slash and his hat.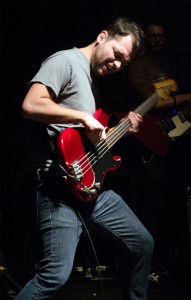 Claudio has his brilliant hair. 
The next track is Devil In Jersey City, – it's with this track that the pit opens up. Fans mosh – they open the pit – they hug each other. Everything Evil is played next, and everyone in the room sings the ending of the song together "Claudio! Dear Claudio! ".
Travis Stever now talks to the crowd, he asks how everyone's doing. He bambles on a bit until, he says "That's how you fill for a bit" as its revealed that there was a small technical difficulty being fixed. The crowd laugh as Travis goes on to say "We are going to play a track from the 2nd album". They play Blood Red Summer. This is a band who are very passionate, you can see it in their faces – they all sing along, you see Claudio mouthing the parts to the guitar, you see bassist Zach Cooper singing along and doing little dance moved to the notes being played.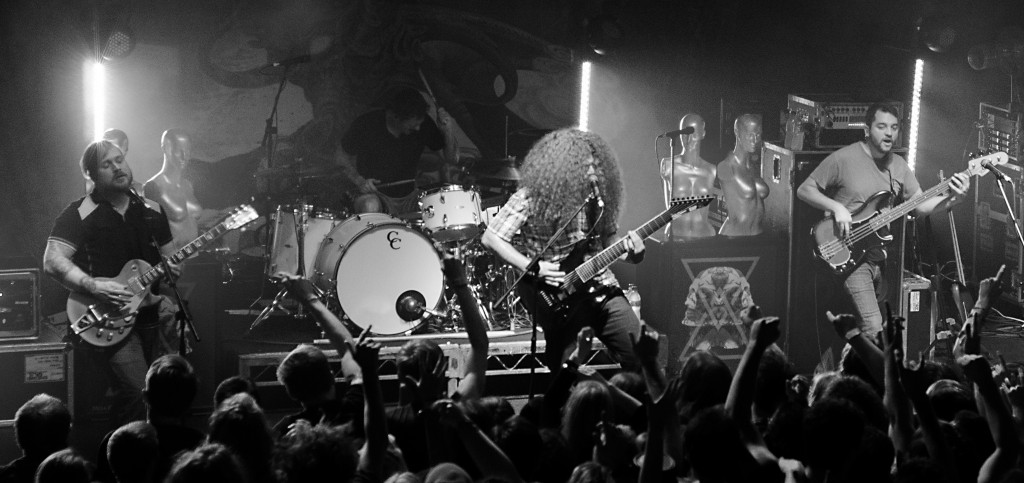 The crowd get their lighters out for The Afterman as they sway from side to side. With this sort of music I feel you simply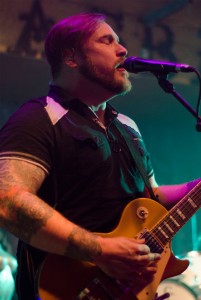 have to get involved with it emotionally. How could any band member play these tracks without emotion? They couldn't. Coheed play another classic from their seciond album. They play In Keeping Secrets of Silent Earth, its with this track we see our first crowd surfer.
When people get this excited about a band it is magical. I can see fans in the crowd, they are completely at one with the music. They have come to this gig and they have had a fantastic night that they will remember probably for the rest of their lives. This is why we are music fans, and this is why its so great to go to live shows. I see some triangles in the crowd in appreciation.
If you have seen Coheed play before, you would have seen Claudio do his usual tricks. Playing guitar with his mouth, and then playing the guitar on the back of his head. He is a very talented man. Claudio politely puts his guitar to rest on its side in the middle of the stage, and the band walk off. The crowd chant "Coheed Coheed Coheed Coheed…….". We hear a twinge of a guitar and they're back…
"Were not trying to be pricks it just takes a while to get everything ready. "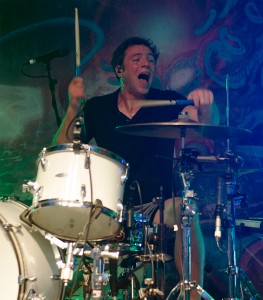 says Claudio. The crowd laugh and then continue to chant, but now asking for Coheed to play their most popular song Welcome Home. But they have another song up their sleeve first and that is Juggernauts from their fifth album 'Year of the Black Rainbow'.  Claudio raises his horns in the air fans raise theirs back in appreciation. Another guitar change for Claudio followed by the song everyone has been waiting for Welcome home. Fans fist punch, the pit opens for the last time and the Crowd surfers are back in full force, there are legs in the air all over the place. I see people hugging and singing there hearts out. "Thank you very much guys!" says Claudio as the band waves goodbye.  Tonight has been a night of passionate artists, and passionate fans. The band gave us emotion, and they made us all laugh, and smile, we had an all round excellent time at the show.

9/10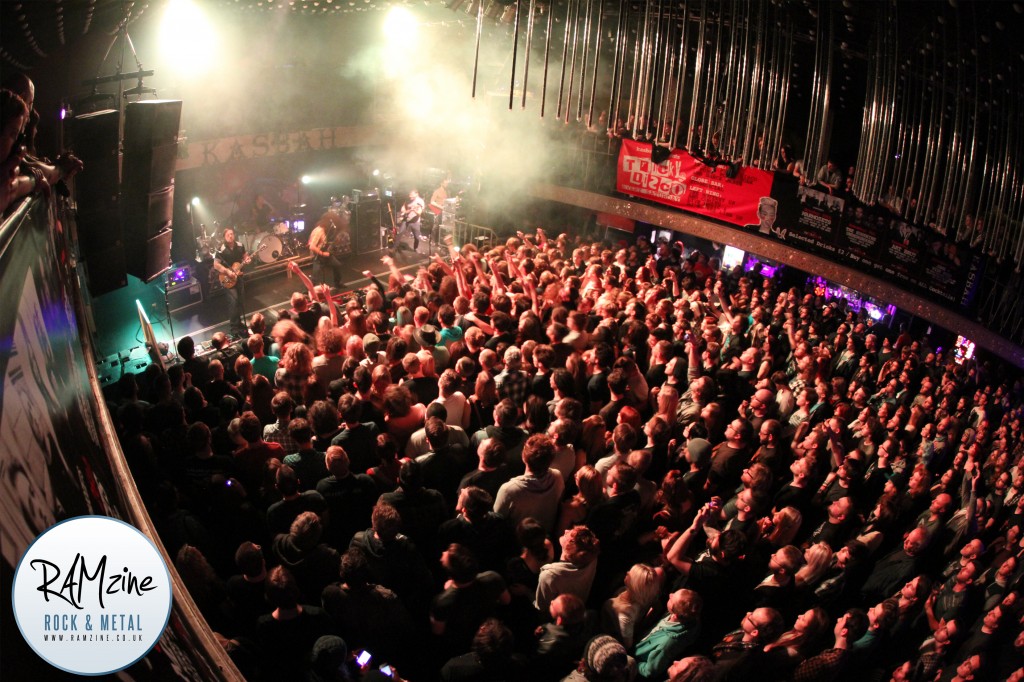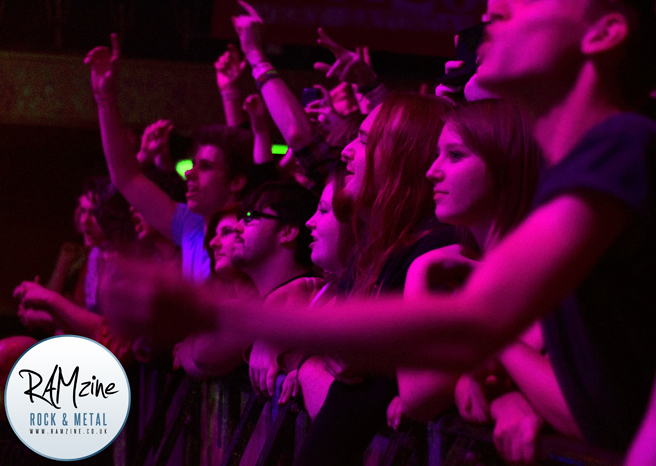 Photographs by Sophie Colvin