Punk and Goth. Not your everyday combination nevertheless the direction that London based 4-peice Cold in Berlin have taken in their stride across today's metal scene. Their well received debut album Give Me Walls was immensely well received,  and it even gained Artrocker's Album of the Month for December of 2010. On the success of Give Me Walls, Cold in Berlin went on to tour Europe with a diverse glimmer of bands such as Diary of Dreams and Mater Susperia Vision. That said, will their new album '…And Yet' , provide the right boost to keep them on a climb?
If you were to ask us to describe '… And Yet' in one word it would have to be bold. The fusion of gothic metal with punk could be hard for some to swallow. But those who are more drawn to the anarchy-fuelled era of the Sex Pistols will find lead vocalist 'My's' a voice to die for. Her voice holds more attitude than any other female singer out there. Particularly in Whisper we hear her go wild with her voice as she finishes off each line with a higher pitched squeal.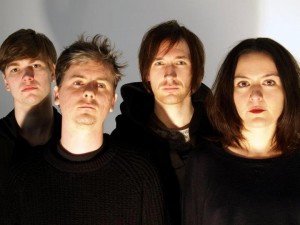 Musically, '…And Yet'  is rather diverse. Of course, for the majority Cold in Berlin stay true to their gothic-punk identity but also seem to experiment on occasion. The Visionary starts off with some military-like drumming which provides a great hook before going into a marching paced song with almost chanted lyrics. At times where the album does allude to it's gothic label, it does so to generate a typically brilliant atmospheric effect which offers up as a great base for the riffs. We also see an influence of the metal greats Black Sabbath on the song The Witch which could easily be described as the 'sister song' to the Sabbath classic, The Wizard.
It also seems that Cold in Berlin have their live audiences in mind with this record as the chorus of Brick By Brick fits all the criteria for a catchy sing-a-long during a gig.
With '…And Yet', Cold in Berlin have proved that above all they are an extremely individual band. Whilst they may not be everyones' particular cup of tea there's enough of everything in this album to get most music fans interested.
7/10