It was metal legend Lemmy that hand picked Diaries of a Hero to support him on tour: the highest honour for any metal band really. Diaries of a Hero may not be all that well known across the scene at the moment but after a tour with Motorhead and Anthrax and a debut album like 'Behind The Mask' that's sure to be a thing of the past. They aren't just your bog standard, run of the mill metal band either. Made up of two Italian men, a Croatian and a welsh man they certainly bring diversity to the metal genre.
Like all good metal the album is full of strong powerful clean vocals courtesy of front man Charlie. Lead guitarist John produces fast paced guitar riffs that would make anyone in the industry green with jealousy: whilst the bashing deep drums and  chugging bass line keeps everything together. 'Behind the Mask' is ten tracks of pure head banging, fist punching delight.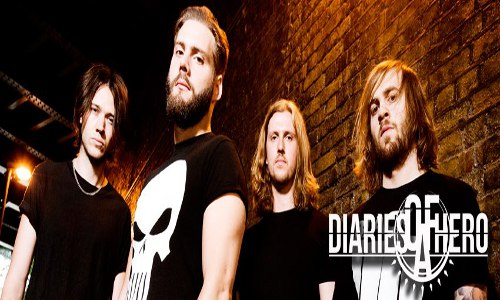 Opener 'Shine Upon The Sun' is the perfect track to show off the bands mixture of metal, classic rock and progressive music: drawing on the positives from every genre and blending them up to make the sound very much their own. The guitar solos are pulsing and engaging rather than being just a typical metal breakdown and even to the last second the guitar doesn't slow down.
Each track flows right into one another, a smooth transition culminating in just under forty minutes of carnage. Every track is full of enough melody and rhythm to catch your attention but enough doses of heavy to pack a punch and give your ears a right bashing (in a good way of course!) Charlie's voice on every track is a pure delight from his softer tone on tracks such as 'Scars of Addiction' to his deeper raw edge on tracks such as 'Behind the Mask' and 'Follow the Hero'.
Diaries of a Hero are sure to be the band the slay next year's festival season if this album is anything to go by. It really is classic metal at it's finest.
8/10
Diaries of a Hero can be found on Facebook here