Formed way back in 2005 and from Darlington this quartet have remained steadfast and now produced another sizzling creation of fast blinding metal. Playing at some of the larger festivals, as well as appearing in Terrorizer Magazine but still find the time to write this their second release from which was recorded in Stymphalian Productions in York with Producer James Stephenson in early 2013. Vocalist Lee Skinner had this to say about 'Into the Black':
"Based on a horror movie theme around a young girl called Vespa the concept of 'Into the Black' plays a big part in how the album sounds and how it is visually portrayed through the artwork and upcoming videos. It contributed to the evolving sound of the band as we introduced more keyboards and experimental sounds into the mix, giving it a different dark feel and sound."
The Rise (Intro)
The satisfaction this track gives out is just phenomenal.  The build-up, the crazed whisperings, the impressive gnawing vocals, it literally swoops down and embeds itself into your very soul – Vespa lives!
Blackened Within
How anything can survive this brutal onslaught is beyond me! It rips so fiercely through the aural it leaves burn marks. Punctuated by an emotive force of guitar and exciting rush of drum beats, if this does not get your blood rushing through your veins you must have met with a vampire!
Until the Final Hour
Bawdy, bedlamic and bold – just three words to describe this track for its brutal scourging never ceases throughout. It wraps greedily around the senses and is awash with brutal energy that surely has been lurking in hell and now cannot be contained any longer!
Into the Black
A rather slow but ambient start that lures although it possesses a rather schizophrenic trait as it coaxes you into a false sense of security. Let's face it Fallen Fate are not known for their slow ambient starts, so I should have known better! This turns into one riotous storm of malignant pleasure.
Possession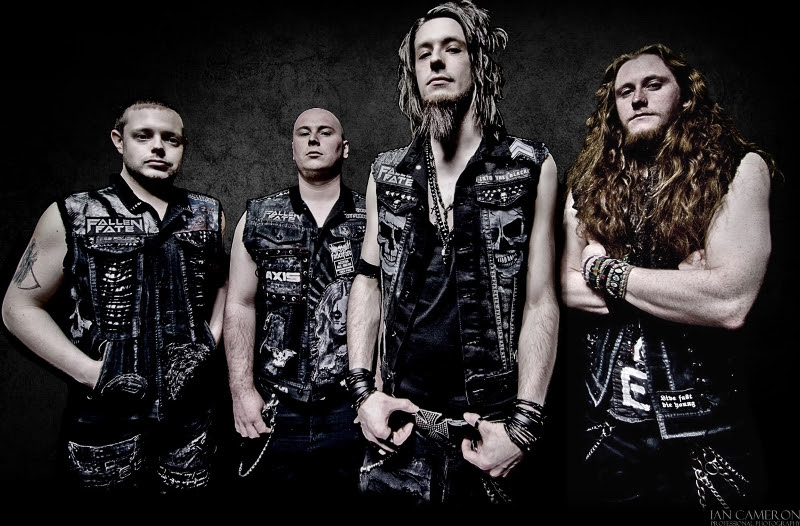 A flurry of rapacious riffs come from out of an atmospheric haze and into a rather provocative light. Vocally scathing as ever and very dramatic in delivery awash with dark revelry, potent to say the very least!
I welcome the dead
If your heart beat can keep up with the beats emanating from this track then you must be doing a marathon. Holding nothing but spiteful venom it oozes a bewildering appeal of madness that spreads like a disease.
Rituals
Sinister and atmospheric this could be a sound track from one of the most terrifying horror movies ever made – I will leave you to guess which one! The rapaciousness and towering rhythms leave nothing to the imagination.  This track comes out kicking and screaming and will no doubt give you a sleepless night.
Last Rites
This tracks broods and brews up an intricate web of temptation. Creative and dramatic and tears up speed leaving a trail of dust that you may have to wipe out of your bloodshot eyes. The clean vocal along with the bruising screams compliment the track superbly in only a way that Fallen Fate could pull off and survive – this is an immense offering of total annihilation.
The Demise
A symphonic and haunting embrace shrouds and smothers the aural with an evil whisper from Vespa and then the lights go out!
Vespa
This is the track we have all been waiting to hear as this is Vespa, evil, dark and awash with malignant tendencies of creativity and passion. Fallen Fate have more than managed to capture a sonic presence of darkness and have now let her loose. The 'She-Devil' of metal!
To have this album on less than 11 would be an insult to Fallen Fate who have put together and created a malevolent dark spirit. This is one labor intense album that possesses more than just thrash, speed and technical but also consists of classical structures – used in such a unique and spellbinding way, that it has battered open a door that leads straight to hell, and will feast on the blood of any living soul that disagrees.
This album has a leaning towards the black and a new direction for Fallen Fate, although, I feel the right way for them to progress and leave behind their comfort zone, experimenting with new sounds that will definitely give them the edge over other bands who just stick inside their comfort zones with their slippers on!  I think Fallen Fate is just going to keep climbing and sooner rather than later will become an all-out top selling band. Let's face it they deserve it without a dark shadow of a doubt.
The atmospherics and the ambiance this album creates is like a tsunami that far reaches into realms of the unknown and conjours up dark forces from within a pit of fire and brimstone and yet they still manages to possess a beautiful melodic intensity that simply explodes into one massive potent rush of ravenous rhythms. A highly intense listen that only the hardened of metal heads could withstand.
This is the real deal! This is Fallen Fate! – A band to watch out for this year! They have hit the ground running with this album.
10/10
Fallen Fate 'Into the Black' is a 10 Track Album, to be released 30th January 2014 via Pledge Music.
Studio Update 1: