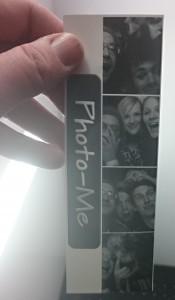 Playing support to Anti-Flag this August was above-board punk rock band Brawlers.
Featuring ex-members of Leftover Crack, Dinosaur Pile-Up, Castrovalva and Martyr Defiled, the band are an exciting group, who live by the saying "every night is Saturday night".
"Are you ready to watch the most electrifying band on the universe" says vocalist Harry George Johns, as they play their opening track.
They are quite a thrilling live band, and I can see the draw from their emerging fan-base. During the set Harry walks through the crowd, across to the photo-booth in the room, where he challenges all to join him. He then sits in there (whilst the band are still playing a song) as fans jump in and out for a quick photo.
Doing something a little bit different sometimes, makes for the best gigs. Fans are left happy, with a new story to tell their mates down the pub, and that's exactly what Brawlers are all about.
[huge_it_gallery id="16″]
The band make light of their modern touring band troubles, comically telling the crowd how hungry they are, "we were dreaming of a Morrison's chicken on the way over… we really are skint Reading, we will sell t-shirts for chicken legs". Harry tells the crowd that earlier that day Anti Flag had found out they had dent any food, and donated a quarter of their rider.
Brawlers also show their modernity in their lyrics on tracks such as 'Instagram Famous'. We all do it, might as well have a song about it. 'I Am A Worthless Piece Of Shit' is another stand-out track, firstly because of the tittle. Secondly because when played live promotes a party atmosphere – we didn't see many people who were not at least tapping their feet. This is straight-up punk rock.

Check out Brawlers newest single 'Annabel' from their April 2015 album Romantic Errors Of Our Youth (out via Alcopop! Records).
There is a sense of debauchery about Brawlers, but in no way do they take themselves too seriously. If you are looking for a fun night out – head to the next Brawlers show! Keep an eye on these ones, as we hear they will be back on the road real soon. Do bring them Morrison's Chickens!
See our review of Anti-Flag here.