If you told me I'd be seeing live versions of 'The Final Countdown' and 'The Boys Are Back in Town' performed by the original bands (well mostly) as well as one of the most exciting new rock bands in the country – I would have thought you were joking. Or talking about a festival of sorts.Alas this is a chilly March Saturday night in Newcastle. The crowd is a combination of fans who loved either: Thin Lizzy in the 70s, Europe in the 80s, Black Star Riders in the past few years.Yet the majority would be classed as 'all of the above', this was a match of bands made in heaven.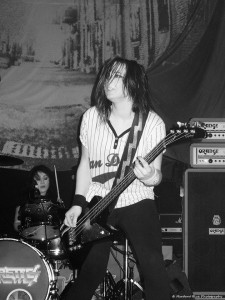 All-female rockers, The Amorettes, are the first to grace us with their AC/DC-meets-The Runaways-style rock 'n' roll. These Scottish ladies certainly know how to rock. Definitely ones to watch in the near future. The venue slowly packs out for co-headliners – Black Star Riders. Dry ice covering the stage, the crowd are ready to pounce for the rock legends. Aptly starting with 'Bound For Glory' this gig is going to be one to remember.
Not wasting any time demonstrating their legacy, Scott Gorham's opening riff for 'Jailbreak' is met with a collective roar from the Newcastle crowd. Yet we are soon reminded that BSR are their own band and not just a Thin Lizzy spin-off, with tracks from their own albums such as 'Charlie I Gotta Go' and 'Soldierstown'.
Having toured under the sacred name of 'Thin Lizzy' for many years, Gorham and co. could have easily gone down the same route as Queen and called themselves 'Thin Lizzy with Ricky Warwick' but instead were reborn as a whole new band and let the music talk for itself. Newer tracks like 'Killer Instinct' and 'All Hell Breaks Loose' could have easily been huge hits 35 years ago (if they were released then) but still makes sense they were recorded last year. BSR have proven themselves as rock icons as their own. Definitely a sizeable match for fellow headliners Europe.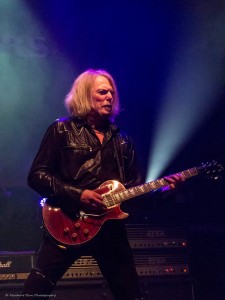 Having said that a lot of highlights of the set come from universal classics such as 'Emerald' and 'Rosalie', and you guessed it 'The Boys Are Back In Town'. They sound just as great coming from Ricky Warwick's mouth as they did from Phil Lynott's – but it doesn't stop there.  Warwick thanks the audience and professes the band would have gone down well in Newcastle's legendary Mayfair venue as well as the recently demised Trillions and dedicates their next single 'Finest Hour' to the great nights spent in these rock 'n' roll hotspots.
The Irish-American five-piece end with a song not only made famous by Thin Lizzy but also by Grateful Dead, Metallica and The Dubliners – 'Whiskey In The Jar' (you sang that in your head, didn't you?) for most, BSR were the true headline act only to be trumped by a technicality. Even so, these fans may have bittened off more than they can chew.
Not long after the Celtic-rockers take a bow, Swedish platinum-sellers Europe knock it out the park with the title track from their latest album 'War of Kings'. Showing a moodier, Sabbath-y side of the band previously known for their hair-metal hits. Joey Tempest is certainly a different performer to what he was in 1986. Which sadly, may be when most of the audience last saw the band live.  The  hard-rockers know they have old school fans out there by taking them back to their early work such as 'Scream Of Anger', while mixing it up with more recent works like 'Hole In My Pocket'.
Joey Tempest is a true showman who clearly watched Robert Plant, Mick Jagger and Freddie Mercury gowing up – you can see it in his moves. He also knows how to play the crowd by announcing to the Geordie audience:
The North East of England is a hot bed of rock talent, I mean you have Brian Johnson, David Coverdale and….Ant N Dec!"
The Swedish vocalist is a cheeky one, launching in to one of their most celebrated tracks – 'Superstition' which even includes a few lines of Whitesnake's 'Here I Go Again'.  A lot of people don't realise Europe have actually done a LOT since 'The Final Countdown' – split and reunited twice, whilst releasing seven successful albums and headlining numerous rick festivals. If anything this tour has benefited Europe, more than it has BSR, by reminding fans they are a band worth caring about. As well as have more to their legacy than embarrassing mullets and appearances on many power-ballad compilations.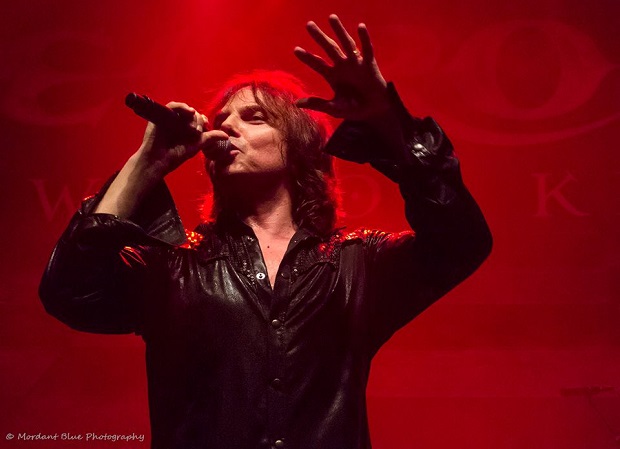 Never the less, the Upplands Vasby five-piece don't disappoint by providing belting performances of 'Rock The Night' and 'Firebox' and the Doors-inspired 'Praise You'. I won't insult your intelligence by stating which song they performed at the end of their set. Needless to say -IT WAS EPIC!! To  see such an awesome epic hit like 'The Final Countdown' performed live, is an experience to behold. Although slightly Eurovision-esque in parts, and echoes of the Hot Rod soundtrack: Europe are a great live band and are worth checking out while they are still around.
Photos: Mordant Blue