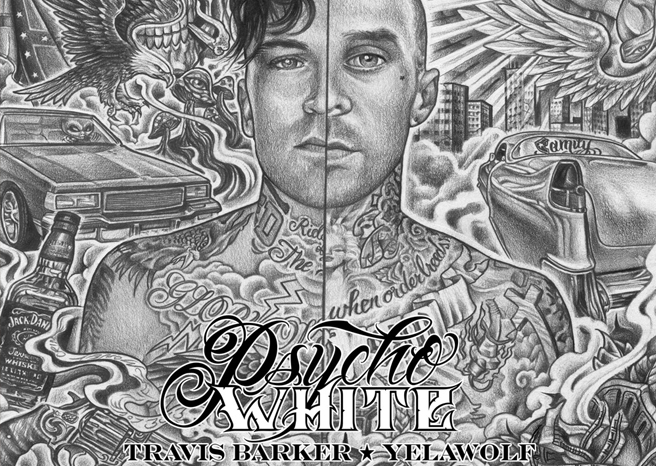 The release of Travis Barker's 2011 debut hip hop album Give The Drummer Some was met with mixed reviews. Generally met with praise by the hip hop community but less so by the alternative/rock press. The confusion from the latter, in my opinion, was that they were expecting it to have a larger rock element to it with Travis playing in Blink 182 and Transplants. Amongst the myriad of collaborations from this album, however, was one that stuck and that came in the form of Yelawolf, who is also the latest signing to Eminem's label Shady Records. In the months that followed the release of Give The Drummer Some Travis announced a string of upcoming new music titles and one of those titles was this, Psycho White. Building on the success his debut release, Travis & Yelawolf entered the studio and the result is a 5 track EP that may silence those that said that a rock/punk drummer cannot produce great hip hop.
Opener Push 'Em has a verse that is very reminiscent of Wish by Nine Inch Nails but has a chorus more influenced by the rock element of Travis's arsenal with vocal contributions from Skinhead Rob & Tim Armstrong (Transplants). With lyrics flying at a speed that could give the likes of Twista and Busta Rhymes a run for their money this is a very enjoyable listen. Second song 6 Feet Underground also see an appearance from Tim Armstrong of Rancid/Transplants fame. Heavy laden with old skool ska and reggae grooves it's a song that surprises as much as it excites. Lyrically at a more pedestrian pace also 6 Feet Underground has a distinctly summer feel to it and is nothing short of a joy to listen to. Funky Shit is the third track and sees a welcome return to the more familiar hip hop sound. Verses based in a slightly darker vibe lead perfectly into big choruses that were clearly composed to be played in big venues. One of the more satisfying elements to Yelawolf's performance throughout this EP is the way that his lyrics are not based around being 'Gangsta' etc. there is a certain amount of ego woven in but this is an element of rap/hip hop that is to be expected with this generation of lyricists. Whistle Dixie is the easily the darkest track on the EP and probably the most enjoyable sonically. Drum tracks based in military snares and sub bass are a Travis Barker signature we have all come to know and nowhere are they more effective than here. Standing head and shoulders above the others, Whistle Dixie is a clear highlight in the Psycho White experience. Closing things up is Directors Cut. This song keeps things in the darker territory beautifully with piano and synth parts dancing around each other wonderfully and slightly reminiscent of the style of Dr Dre.
As Psycho White comes to an end it becomes very clear that as a producer Travis Barker has come on leaps and bounds since his early days of remixing Rhianna singles. This is a thoroughly enjoyable listen from start to finish and if nothing else lays a very solid feeling of excitement for his other upcoming releases including a new Transplants album and Blink 182 EP amongst others.
8/10
Yelawolf are also on Facebook here