Tonight the Electric Ballroom in Camden is filled with fans of all age groups who are gathered together to watch the former Deep Purple vocalist and bass player Glenn Hughes perform a Classic Deep Purple set, hence the name of this tour. The current frontman of supergroup Black Country Communion is well known for having constantly put out first class work from all his projects throughout his career. For the first time since 1976 Glenn is paying homage to his golden Purple years, therefore, we will be lucky enough to be part of something special tonight. Last year Hughes went out on tour in Australia and New Zealand and after having received a magnificent response to his classic Deep Purple tour, he is now repeating the whole experience in the UK and in Ireland.
Everyone is fired up, the general excitement in the venue is palpable and as Glenn gets on stage with the band, he is in for a very warm greeting from his fans. You can tell that the majority of them have been loyal supporters for decades which is even more rewarding for any artist that has been around for as long as Glenn. His expertise with high notes is very well displayed in his opening, in fact 'Stormbringer' definitely represents a great way to start a show. "You might know this one" that's how he introduces 'Might Just Take Your Life' and as he goes on with his set one can truly appreciate the way he is constantly thanking his public for their support. It feels great to experience his unique way to blend elements of rock, soul and funk together from such a close distance. Being a fan of Glenn, you do expect him to sound superlative on stage but tonight he's gone above and beyond. Before playing 'Sail Away' he takes a moment to remember and to pay tribute to former bandmate Tommy Bolin, who tragically died by drug overdose. The band's sound is impeccable, very gritty and powerful. Glenn's vocal skills are undoubtedly still outstanding, not to mention the sense of authenticity that he brings in whatever he does and in the way he presents it. He's a perfectionist and he's clearly showing this trait in tonight's performance. I believe this is one of the reasons why at the age of 66 he still represents one of the most dominant and influential frontmen in the music business. "Me and David wrote this in like ten minutes," says Glenn introducing 'You Keep On Moving'.
After a fine keyboard solo he plays 'You Fool No One' while the audience accompanies him with sing-alongs and clapping. The masterful guitar solo is followed by an equally exemplary drum solo and 'High Ball Shooter' ends in the reprise of the previous track 'You Fool No One'. It's now time for the big hit 'Smoke On The Water' which turns out to be an exhilarating medley once joined with the popular 'Georgia On My Mind' where Glenn hits every note like a rock 'n roll angel sent from heaven.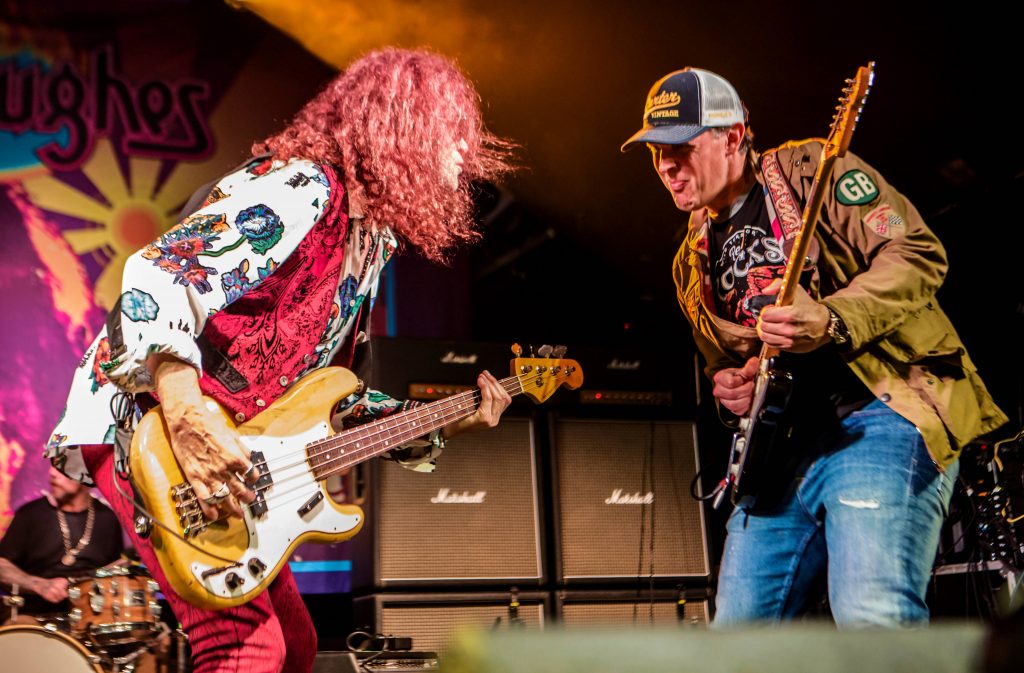 Hughes returns for an encore that exceeds every expectation, in fact, he manages to bring the house down thanks to a perfect execution of the internationally acclaimed 'Burn' and 'Mistreated' which also see the appearance of a very special guest – Joe Bonamassa. The guitarist super hero's expertise becomes magic once it's coupled up with Glenn's vocals. As usual, Joe's performance is a guitar masterclass and the air is filled with every shade of electric sound, blues and soul perfectly mixed together. The last song of the set is 'Highway Star'. At this point the venue is on fire, the audience knows every single word, singing them loudly and with the same passion as their idol. There's a special connection between Glenn and his affectionate crowd tonight and it's not just due to the intimacy of the Electric Ballroom. Everything about his performance is flawless, one can sense a certain feeling of nostalgia in the air but also a feeling of unity and gratitude for having had the privilege to be part of this remarkable evening. Hopefully, there will be more to come.