At first, you might not know the name, but if you have listened to chart-topping hits from The Prodigy, seen Pitchshifter live, or even heard some background music on Sky TV,  you will have heard the music of one Jim Davies. The technical guitarist is now releasing a solo album entitled Headwars. Written and produced by Davies, and including guest appearances from former Pitchshifter bandmates MD Clayden and Jason Bowld, as well as electronic musician Tut Tut Child, and vocalists Abbie Aisleen and Milly Rodda. We caught up with Jim Davies in these strange and uncertain times to talk about the album as well his past ventures, his collaborators, and keeping busy during the quarantine.
First of all, how are you, and how are you finding this bizarre time?
I'm good, thanks. Strangely enough, without sounding blase about it, it doesn't make much difference to my day. I spend most of my time in the studio anyway, I might go for a run or something but this is what I usually do. The only difference is, the missus is home a lot more.
Your new album, Headwars, is due for release on April 10th – do you think the pandemic will affect how people will listen to it?
It could be [a good thing] in a funny way. My first thought was 'this isn't a great time to have an album out' but it's a digital release. It's not physical and I'm not considering touring it – so I can't see it really affecting the release. People are probably bored and looking for something new to listen to. Who knows?
This is your second solo release, how did the idea of your own album come about now?
Although people keep saying it's my second album, to me it feels like the first. The first one [Electronic Guitar] was an instrumental album I released about 10 years ago and to me, that wasn't really the same, it's something I wanted to do back then because I was really into electronic music and doing instrumental guitar stuff. This album's completely different from that one. This one is full vocal, full songs, to me this is like a 'proper' solo album. So it feels like the first. I've had it in the back of my mind for some time now. Over the past 10 years I've written thousands of pieces of music and tracks for TV and film – so I've been doing all these different styles of music because you have to be quite versatile to do that. I got to the point when I started looking back at the stuff that's out there and started thinking where I was in a bit of a 'purple patch' where all this is better than anything else I've done before. The majority goes on TV stuff and it's not released officially so it's not heard properly. I make a good living from it, but I thought over the past couple of years it would be good to do another album. For myself if anything, [it's] where I am now musically.
I do feel this album is the best I can do. I was thinking: If I get hit by a bus crossing the road, in the last dying moments I don't want to think 'you could have done a bit better'. I just like the idea of having something out there. A lot of the stuff that's out there is on Spotify or somewhere online or its stuff for TV – although it's stuff that's really strong I want to write something for myself. I've enjoyed it and I've treated it as fun from day 1. I won't get upset if there are bad reviews and people don't like it. Everything's a bonus! If people are into it then brilliant. If not, it doesn't matter. There's no end-game where I need this to pay the bills, or else I'd go ballistic. I've been enjoying doing the videos, getting the artwork done, it's been really fun. That was the idea from day one really.
Talking of the videos, they're following a similar style – did you hire someone for that and did you have much input?
It's an animation studio called Sub-Giant Studios, based in Belgrade. The company I'm releasing this album out through set me up with them. They did the 'Ticking Timebomb' video and we got on really well. We started going backward and forwards and I started having input in the video. It came out great so we decided to do another one for 'Trigger Finger'. I wanted the album to have a 'look' all the way through it. The thing with this is I'm not doing this for any kind of ego trip, there was never a chance I wanted to do a 'band' video for this like me playing these songs in some rehearsal room or gritty graffiti type background – you know the cheesy rock videos. That's not how I see this. I think it was good for me not to be in it. I really like their style [Sub-Giant Studios]. I'm going to do one more video with them I think, that will give the project a nice cohesive look.
As you class this as your first 'proper' solo album – did you take any lessons from working with Pitchshifter and The Prodigy? And was this the album you thought you would make at the beginning of your career?
When I decided to do this I spoke to a lot of my friends and family about it. There are loads of plus points, or ups and downs, to what I've done over the years – so most people were saying "Do you want to get back into this?" and I did. But I had to think about what my 'thing' is now as I spent years writing music for other people. So when people are saying 'do your own album', I don't know what that is anymore. I just gravitate towards dark, electronic music because I've always been into that. I've always been into putting guitars over electronic music. You can tell from the album, there are loads of genres on there. That's a reaction to working with all styles of music over the years. Of course, there's the punky, electronic stuff. There's some on there that take a different angle like 'Now You Know' which is very modern sounding, almost commercial, not pop but very current. There's even drum n bass tracks, but there are also some heavier influences. I can't help but be influenced by those bands, it's part of my DNA, I'm just into that style of music. This is my album so those influences were obvious.
When you started playing with The Prodigy they had two of their biggest hits 'Firestarter' and 'Breathe' – do you feel that this era for the band has had a legacy, looking at today's rock music?
Yeah, hugely. It's tricky for me because looking back, it was a long time ago. Those two tracks in particular are now a huge part of music history and I feel privileged to have played on them. [Although] it's not like those two tracks define me, I've done a lot of stuff since. I don't want to be dining out on those tracks because I've done loads of other stuff. You have to be careful when talking about those because I saw a review that said that I pitched putting guitars on the album, The Prodigy used guitars on Jilted Generation – before I played with them so that's not the case. It just makes me think "For fuck's sake…" because they have the wrong end of the stick. Hopefully, people understand I don't have much control over that. But going back to the question – definitely. Just look at bands like Enter Shikari, it's a good thing. I'm always looking at mixing up and mashing up different styles of music. Otherwise, it gets boring, doesn't it? I love loads of rock stuff – I listen to Slipknot, Helmet, Quicksand, Deftones. My musical tastes have always been really broad because of the bands I've played in. With the guys in Pitchshifter, we used to go to drum n bass nights all the time. That period in the late 90s, everything crossed over, everyone was doing it.
There's a lot of guest appearances on the album. Are these your mates, or was it a list of people you wanted on the album?
I write on my own all the time. I stopped playing in bands about 10-15 years ago, almost just overnight. It's a weird thing really but I've been doing it for a long time, starting really young. I just got used to writing on my own [but] sometimes it's just nice to work with other people. Through doing music for TV I bumped into Tut Tut Child. Not many people on the rock side of things would have heard of him but maybe in the electronic world. He has millions and millions of streams on Spotify. We bumped into each other because he wrote for the same company as me. I had a few of his tracks on my gym/ running playlist so I thought 'oh, hello…' It turns out he'd heard my stuff and we had done a lot of tracks outside of this album. So, of course, I wanted him involved.
Jason Bowld, I was in Pitchshifter with him and he has done great things with Bullet For My Valentine, I sort of lost touch with him a bit. I regretted that so I got back in touch with him. I knew he would go on to big stuff. Almost instantly we said 'let's do some tracks together'. The track on the album called 'Caged' has a good story behind it. I said to him 'Let's do a track' and he just sent me… imagine the finished version of that tune but take off all the guitars, vocals, everything apart from the drums – that's what he sent me. He knows that I like destructive songs, it's quite full on so I feel he was trying to trip up and like challenge me. So the rest was the track you hear. Playing with Mark from Pitchshifter was fun again.
Abbie Aisleen, as you may know is my wife. She has a really cool voice. I know it's a bit cheesy having your missus on the album, it's a bit Yoko Ono, but she was really instrumental in me doing this album. The first one I actually wrote was 'Game Of Faces' because she was moaning "you never write music for me". So I wrote this dark, moody, glittery track, thinking she would hate it. She came up with 'Game Of Faces', which I thought was really strong, and that made me think I could do an album of this sort of stuff. So she kicked off the idea. After that first track, I thought we should do more, after three I thought I may as well do an album. It didn't take that long either, about 4 or 5 months. I was really fired up to do it. Once I had the idea in my head to do it, I was really excited about it. I knew I had good ideas, and it came together really quickly. It's taken a bit of pressure off me and was enjoyable.
So after working with some great people, if you had to work with anyone, who would be your fantasy collaboration?
That's a really good question… my favorite bands are Depeche Mode so Dave Gahan would be ideal. I'm massively into The Cure, Trent Reznor is a big one. He's an interesting one because I've always been into Nine inch Nails but he's managed to go into effortlessly writing music for film, and soundtracks but still sound like him. Then he goes back to doing Nine Inch Nails albums. The Social Network could have been boring film music but it ended up being an album you would play in the car. That inspired me, as the stuff I write for TV is like that. I thought I could release it as an album and that also gave me the idea. I don't want to do gigs or tours again but I made the album that I didn't have to tour with. It's funny because I was planning on doing another later this year and this happens [COVOID 19 pandemic] so I've got a lot more time on my hands, if I work on a track a week I might get another done (laughs). There's going to be so many albums released off the back of this.
So you don't want to play these songs live? Not even a festival?
When I started writing the album I made a decision that I wasn't going to do it live because that would have changed the creative process. My favourite thing to do is sit in front of the computer, writing songs, creating textures with guitars and synths. If I did think of doing it live, that would probably stress me out. I don't want to have to think about how I'm going to play it live. Some of these tracks have a lot of stuff going on. 'Ticking Timebomb' for example, has about 130 different channels running through it. It would have changed how it sounds. I just want to do whatever I like. That's why there are so many different styles on the album. I wasn't thinking about how it would go down live if it was too fast or slow. Also, I don't think I'm a natural frontman. I've been lucky that the bands I've played with have had brilliant front-men. I don't think I'm that self-assured or confident in that way. Which you have to be a front-man, I'm more reserved and prefer to play at the back. It's also soul-destroying when you play gigs and no one is there. You are always worrying if anyone will be there. There's a lot of work involved in putting a band together, it would stress me out. The idea with the album was to have fun. I think I'd probably have anxiety nightmares if I was going to gig this album. I still have those sometimes about playing live and nothing works. Playing the guitar and it doesn't sound right. That's one reason there, I wouldn't sleep.
So after reuniting with the guys from Pitchshifter, would you tour with them again?
I really don't know. They did a reunion tour last year and that was news to me, I was sat home and had texts come through saying they saw it advertised and had no idea it was happening. I wasn't involved in the re-release of 'Un-United Kingdom' either. There's no weirdness with it, but it's Mark and Jon [Clayden]'s band and it always has been. They have had the band since they were very young. I'm still in contact, we're still friends but I haven't been asked about anything. With [The Prodigy] I don't think that would even be in their minds right now.
Would you want to start a new band?
It can be fun, but not always. I look back at it nostalgically, we had some really good times but also rubbish times. I don't know what exactly I would do. I've been lucky because of the two big bands I've been involved in- I was a fan of beforehand. That doesn't happen very often. It's crossed my mind before if someone asked again. I don't know who exactly. When you tour there's loads of dead time, you are at the venue for hours and only play for about 50 minutes. Now I write music for TV and film, that does really well. If I was away for a long time, it would bother me that I'm not in the studio for so long. Although, if it was only a week-long tour, and it was a band I was really in to, maybe. I wouldn't want to start a new band. Playing pubs and clubs in my 50s doesn't appeal to me. That's why I enjoy working on soundtracks.
You have mentioned you have done TV and film soundtracks, what sort of things has your music been used on?
So many. Documentaries on National Geographic and History Channel, stuff for Sky Sports. Cheesy reality stuff like X-Factor, America's Got Talent and so on. A lot of the time I don't know what it's used on until after. The company will ask for some 'tension' or 'action' or 'horror'. Usually, I don't know until the royalties have come through. The other day I was looking through what it was on and that mad Japanese game show Takeshi's Castle was on there! I used to watch that when I was hungover. They were promoting Star Wars on Sky Movies and that's quite cool. Same with hearing it at the Olympics. But sometimes it's on TOWIE or Geordie Shore. I prefer the grittier stuff.
What else have you got on the horizon?
As I said before, I'm looking forward to getting back into the studio and doing this second album. I like the idea of doing a remix album too. Jason Bowld, Nick Kingsley, and I are working on a much heavier project. Also playing Doom Eternal. The soundtrack is awesome, absolutely brutal. I'm going to try and be productive, get in the studio, go for a run, play Doom, read a book and maybe in three years go to the pub!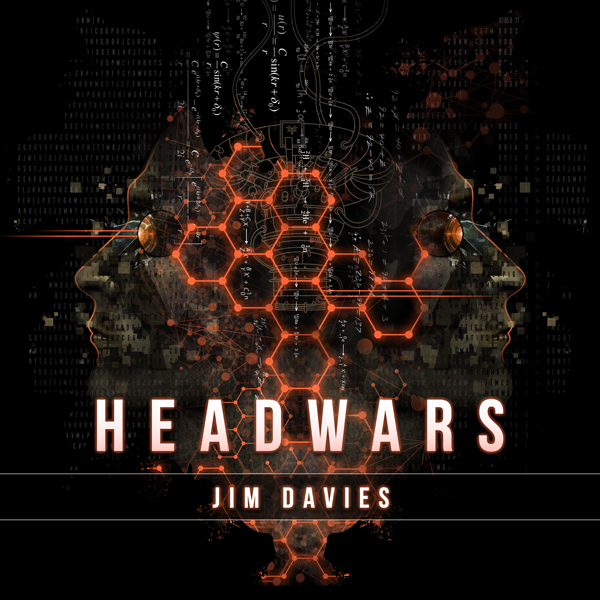 The new album Headwars by Jim Davies is available from April 10th via Extreme Music.