There's very few bands that summarise rock and roll more than T-Rex. Led by the wild haired Marc Bolan, the band blazed a trail for many bands to follow throughout their all to short career, which was ended when Bolan died in a car accident in 1977, aged just 29. However, before his untimely demise, the band recorded one of the definitive rock and roll albums of all time: "Electric Warrior".
Featuring Bolan on guitar and vocals, Steve Currie on bass guitar and Bill Legend on drums, the group created a sound that became the blueprint for the glam and hard rock bands to follow in the late 70s and early 80s. The album itself opens with "Mambo Sun", the song immediately setting a classic chilled-out rock and roll vibe. The drum groove and the vocal melody really carry the song. Bolan's signature 'whispered' vocal style is so original and inspired a generation of singers. He keeps the melody repetitive and simple, and this is the same with his guitar solos. They aren't filled with virtuosity, but my word they're effective.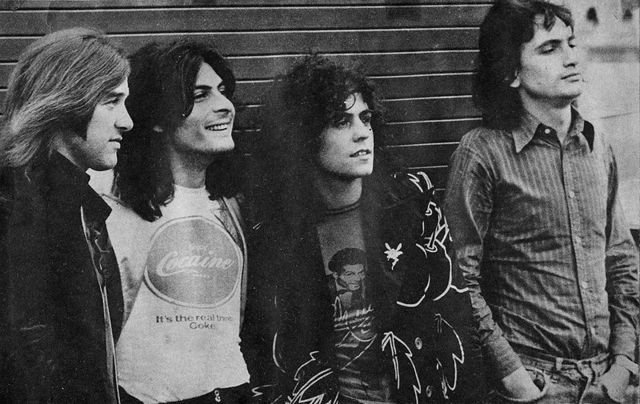 Next up after this brilliant opener is "Cosmic Dancer", a song which is acoustic led. Once again, the chords are kept simple, along with the vocal melody. This song is so haunting; Bolan's vocals combine with the classical string section to make a real ethereal effect and one which sends chills down the listener's spine. Slower tempo songs are not often put high up in an album's tracklisting, however the decision to put this second is so justified. A real surprise and one of the highlights of the album.
Following this is "Jeepster", a song which is just classic T-Rex. The vibe is upbeat and the song just swings. It's classic 70s rock and roll, with pretty much the same style as the Rolling Stones but with a real edge to it. This edge is what set T-Rex apart, and why they may not have been as astronomically successful as the Stones, their cult following for this clever rock and roll band is so wide and strong.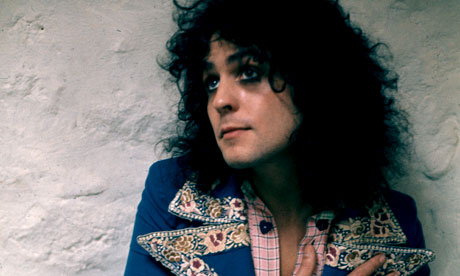 Up next is "Monolith", a song which is so bluesy, yet retains that dirty T-Rex vibe. The haunting vocals return, creating an image of a man standing on top of a mountain wondering how he can make an impact in the world. The wah infused solo is simply stunning and Bolan really shows off his skills as a guitar player. The backing vocals are almost a separate instrument in themselves here. The melody and harmonies they create gives the music a vital layer for Bolan's vocals to work off and is simply stunning.
Following on from this is "Lean Woman Blues", which exudes serious classic blues attitude. It's clear this where the band's influences are, and Bolan in particular really cuts loose here with vocals and guitar. The bass and drums stay so consistent and just provide the perfect platform for Bolan to soar. The dynamics of the song are impressive too, with the dynamics much lower in the verse, then building to a crescendo as the instrumental breaks approach, allowing the wailing guitar solos to have maximum impact.
Next up is arguably the band's biggest hit "Get It On". The main riff is simply timeless, and has been 'interpreted' by countless bands. This riff is just legendary and the entire song is based around it. It cements itself in the listener's head, and when combined with Bolan's legendary lyrics the song created is simply sensation. There really are no words which can praise the construction of this song highly enough, and the introduction of saxophone just tips it off as perfect.
Following this is "Planet Queen" which is driven by a brilliant drum groove. This groove underpins the song perfectly; the acoustic guitar line and more complicated vocal melody have a stunning platform to work from. The vocal harmonies add a great effect, giving the song variety and a real musical originality. This is unlike anything on the album, with parts of it sounding like early Black Sabbath. A wonderful song, which really is a surprising highlight.
Next up is "Girl", which is a pure rock and roll ballad. It's clear this song was the inspiration for 80s metal ballads like "Home Sweet Home" by Motley Crue. The vibes are so similar and yet, this song is still intrinsically T-Rex and incomparable. The sheer emotion pouring out from the speakers is amazing, and this song is one of the single best ballads of all time.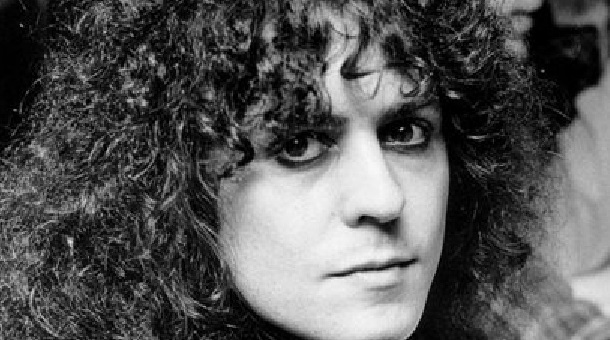 Following on is "The Motivator", a much more upbeat song. The funk beat, supplemented by bongos and percussion gives a real holiday vibe. The dirty guitar sound keeps the song classic T-Rex, and the vocal harmonies once again provide variety in the music. This is a good album track, as it keeps the listener interested, without doing anything too different to what has been on the rest of the album.
Up next is "Life's A Gas", another acoustic led track. The electric guitar line which fills gaps and goes under the acoustic, providing some rhythm, is a real surprise effect and was something which was not expected. For a band like T-Rex who create simple effective music, it's brilliant that they can still surprise the listener this far into the album.
Closing the album is "Rip Off", another funky percussive song. This song seriously sounds like a cleaner version of Skid Row, and it's clear what influence the band had on later glam rock. It's fantastic to hear some aggression here and closes the album on a real high note.
In closing, this album is a definitive rock and roll odyssey. Bolan's larger than life style, both on this album and on stage was a key influence to all of rock and roll going forward. He was taken from us too soon, however we will always have albums like "Electric Warrior" to remind us what a true musical genius he really was.
FOR FANS OF: Roxy Music, The Kinks, New York Dolls