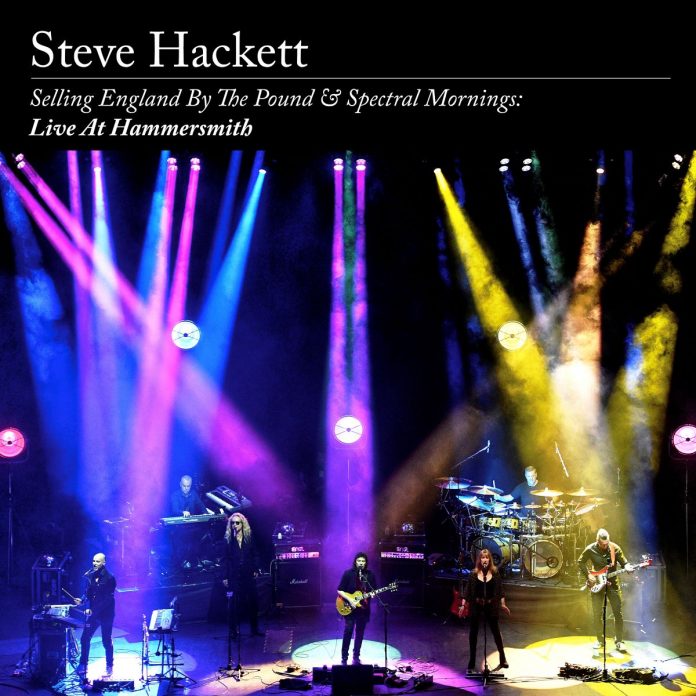 Steve Hackett's Selling England By The Pound & Spectral Morning sold-out 20-date UK tour proved a great success, and the final night of the tour was recorded, and thus with the suffix Live At Hammersmith will be released in assorted packages on DVD, CD and vinyl as of 25th September 2020.
The concert at Hammersmith Eventim Apollo that night saw Hackett joined by his touring band of Roger King (keyboards), Jonas Reingold (bass), Rob Townsend (saxes/flutes), Craig Blundell (drums and percussion) with Nad Sylvan on vocals. There were also special guest performances from the guitarist's brother John Hackett (flute) and Amanda Lehmann (guitar and vocals).
A very special tour for Steve Hackett as it brought together his favourite album from his time as guitarist with Genesis – Selling England By The Pound – with it performed live in its entirety for the first time. The show also featured selected tracks from his personal favourite album from his extensive solo career Spectral Mornings, together with tracks from his acclaimed 2019 release At The Edge Of Light.
"Amalgamating three personal favourite albums, including the whole of Selling England By The Pound, most of Spectral Mornings and At The Edge Of Light highlights was a very special live experience," commented Hackett. "Both audio and visual on this product give a mind-blowing experience of an unforgettable evening at Hammersmith."
The first set of the concert includes tracks from Spectral Mornings, celebrating its 40th anniversary, and At The Edge Of Light. Hackett's band was then joined by the noted guests for 'The Virgin And The Gypsy' and 'The Red Flower Of Tai Chi Blooms Everywhere'.
The second part of live recording features Selling England by the Pound album in its entirety, plus 'Déja Vu', a track initiated for the album by Peter Gabriel, but later completed by Hackett. The recording then concludes with the concert encores of 'Dance On A Volcano' and 'Los Endos'.
'Déja Vu' is also available on all streaming platforms as a single by clicking here and you can watch the video for it right here at RAMzine.
Selling England By The Pound & Spectral Mornings: Live At Hammersmith CD 1 features:'Intro', 'Every Day', 'Under The Eye of The Sun', 'Fallen Walls And Pedestals', 'Beasts Of Our Time', 'The Virgin And The Gypsy', 'Tigermoth', 'Spectral Mornings', 'The Red Flower Of Tai Chi Blooms Everywhere', 'Clocks – Angel of Mons', 'Dancing With The Moonlit Knight' and 'I Know What I Like (In Your Wardrobe)'.
Selling England By The Pound & Spectral Mornings: Live at Hammersmith is released on 25th September, through InsideOut Music in several formats: The DVD package includes the 2-hour concert, and the Blu-Ray package an additional 30 minute documentary.
Steve Hackett's subsequent Seconds Out + More! tour has been rescheduled due to the coronavirus pandemic. The 31 date UK tour has been rescheduled for September/October 2021. Tickets can be ordered here and here. More information at RAMzine on this can be found by clicking here.
The guitarist has also released a video for 'Under The Eye Of The Sun', from the forthcoming Selling England & Spectral Mornings : Live at Hammersmith CD/DVD that you can also see here at RAMzine.
While the pandemic has put a number of things on hold, the release of Steve Hackett's autobiography, A Genesis In My Bed, appeared without trauma and is available from Wymer (UK) Ltd
It begins somewhat dryly, and while no one would be expecting sex, drugs, rock & roll at every turn of the page it most certainly does thrown in its share of surprises.
Finding Steve Hackett smoked comes as a shock. It shouldn't I guess, but there's no apparent photographic existence of a time when everyone seemed to back in the 70s. Later discussion of cannabis intake we take more in our stride. Snorting coke up a mountainside in Brazil, perhaps a step too far.
That awfully nice bunch of gentlemen weren't quite as white as white as we used to think. Not that Hackett gives the game away completely about his former bandmates in Genesis, though it's obvious from both the tabloids and Phil Collins' own biography he liked to play the field with assorted affairs. Hackett, it transpires, similarly began making whoopie when the sun didn't shine after his first divorce.
Working class, a four-eyed speccy lad from the age of eight, he'd briefly emigrated to Canada when even younger but any dreams of a making it out in Hollywood on his father's penny like Prince Henry and his former supporting actress wife, were dashed when his mother decided they should come home. Caring parents nonetheless, even if their own marriage was not to last, and a younger brother whose own musical talents would slowly emerge.
Brian Jones of The Rolling Stones stands revealed as the unlikely early influence on young Steve taking up guitar. Less so than Hank Marvin who we night assume, although Hackett is chuffed to bits later in his career when invited alongside Beck, Gilmour and Clapton to see the Shadow's man off on his voyage to emigrate to Australia.
He's also to found hobnobbing with Bob Geldof in the Bahamas, and developed an early fondness for Newcastle Brown while sitting down the back of the bus with Lindisfarne, in between high-brow chats with the chaps from Van De Graaf Generator who lead from the front, and slowly beginning to suss out that sitting in the middle wasn't necessarily a political statement for Genesis, during those Charisma package tours of days gone by.
While CD2 features: 'Firth Of Fifth', 'More Fool Me', 'The Battle Of Epping Forest', 'After The Ordeal', 'The Cinema Show', 'Aisle of Plenty', 'Déjà Vu', 'Dance On A Volcano' and 'Los Endos' – You can also watch a recently released video of 'The Cinema Show' here at RAMzine.
When the lack of a good record deal during the 80s causes stage-fright, almost throwing touring out the window, he grows philosophical, in turn seeing an increases spiritualist search of peace of mind.
That stated, the AOR supergroup GTR is viewed as a short-term marketing dream for most concerned, and it's interesting how with his development as an acoustic guitar alongside orchestra his credibility is regained after a fallow period. From there suddenly it all seems to come together, and a new band is formed that with a few changes here and there remains pretty confidently by him, growing in popularity, spectacularly so for an old prog rock guitarist.
There are walk-on parts for Hammer film/Dear John TV series actor Ralph Bates, Donald and Ivanka Trump (who gets compared to Patsy in Absolutely Fabulous), and stories about how Michael Jackson only ever makes it half way across the lobby once a day before a legion of paparazzi force him to turn back.
He finds fun playing the blues again back in the 90s, rekindles interest in his early work with Genesis, revising it for today's audience, is found to be a friend of Anthony Phillips, the guitarist he replace in that band, and has even worked with Ray Wilson who joined after he left.  Gabriel and him appear to have seen eye to eye often and forced the live shows to be the legendary performances they were, and while one somehow expects Tony Banks to be seen as the rotten egg but it's noted he pops round for dinner… Saucier stuff is revealed when we learn former Kajagoogoo bass player Nick Beggs has habit of walking round naked!
To purchase a copy of the book go here.
In extracurricular activities, Hackett has co-written and plays guitar on 'The Sound of Dreams (Third Movement)' with keyboard player, composer and film producer David Minasian. It's out now as a single, and will also be available on the latter's forthcoming album, The Sound of Dreams.