I'm glad Skid Row are still going. They were one of the most underrated bands that came out of that famous LA metal scene. Singer Johnny Solinger has been in the band since 1999, and has really put his own stamp on the band. Along with original members Dave "Snake" Sabo, Rachel Bolan and Scotti Hill, as well as new drummer Dave Hammersmith, the band have recorded a new EP entitled "United World Rebellion – Chapter One".
The EP is fairly steady going initially, with the chorus of opening song 'Kings of Demolition' particularly memorable and the sheer energy of the intro of 'Let's Go'.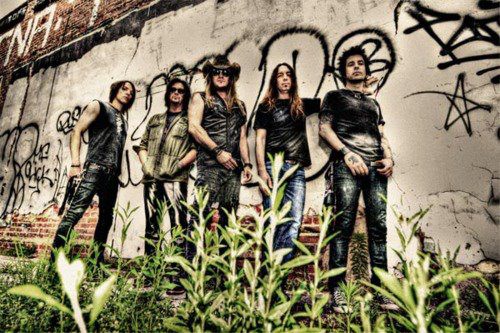 It'd be very difficult to put this up next to any of Skid Row's classic material, which at the end of the day is what band's are judged by as their careers develop. The ballad 'This is Killing Me' is not a patch on 'I Remember You' from the first album. I can even hear some very similar acoustic guitar chords in there.
Solinger's vocals are strong throughout, and they are the real highlight of this EP. He has a similar vibe to Sebastian Bach (former Skid Row singer), yet seems to have an excellent grasp of tonality and dynamics within his vocals.
'Get Up' and 'Stitches', the final two songs are good enough, but seem to drag slightly, although the former is home to an almighty main riff, which could shake mountains.
In reality, this is a good EP overall, yet it doesn't jump out and grab me as their best album to date. It's easy listening. There's a lot of decent bits, however they're equalled out by what seems like average parts. If you want a decent rock and roll EP, then this is for you. If you want something with a little more depth, then this may not be to your tastes.
7/10